Uber drivers in D.C. know their car is the most important tool for making money. The cleanliness and safety of your vehicle are critical factors for getting a 5-star rating and increasing pickups. Your automobile helps determine your success, especially if you're an UberBLACK driver.
As an UberBLACK driver, you're required to operate a high-end luxury sedan, but in turn, you make more per passenger. Your fare rate is the same whether you're driving a $200,000 Rolls-Royce or a more modestly priced vehicle. So it makes financial sense to invest in a more affordable sedan and take advantage of the luxury fare rates.
Luxury sedans are built to last, so you can plan to own for the long haul. In a 5-year Cost to Own analysis using edmunds.com, the Hyundai Genesis edges out the competition for best return on investment. It came in first for MSRP and total insurance costs when compared to other qualified luxury sedans.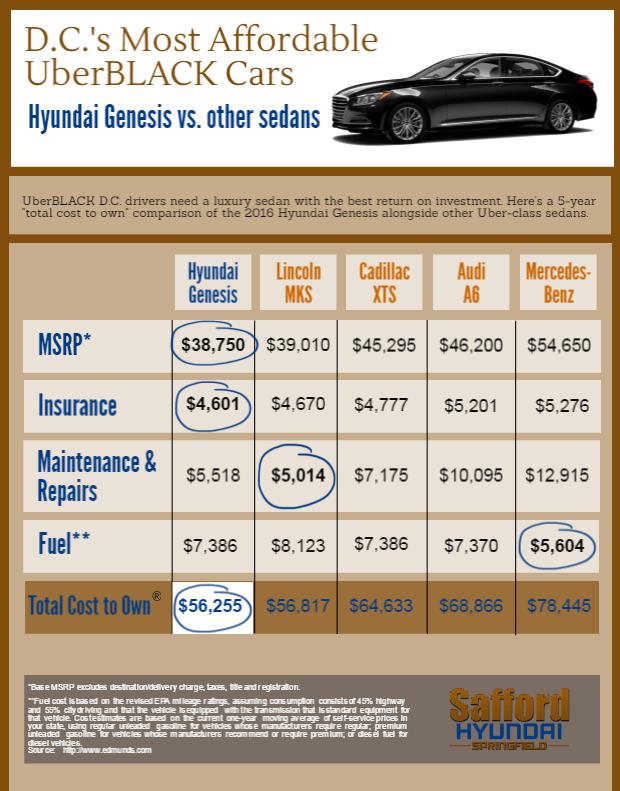 Currently, Hyundai is offering a $1,000 cash back rebate for all Uber drivers. The rebate applies to select models including the Hyundai Genesis. To be eligible for the rebate, you must:
Be a registered Uber driver.

Provide a copy of the Uber Driver Dashboard showing your registration.
By choosing your car wisely and taking advantage of dealer rebates, you can increase your return on investment as an UberBLACK driver. Visit your local Hyundai dealer to test drive a Hyundai Genesis today.