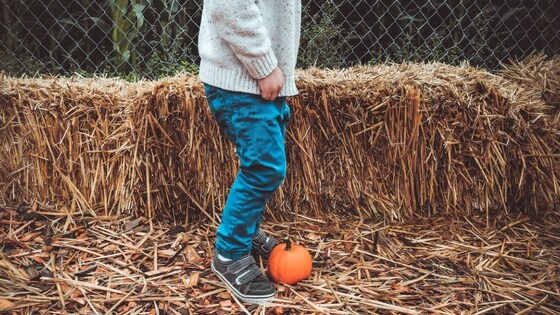 It's officially October: one of the most beautiful times of year in Northern Virginia. The leaves are changing, the air is crisp, and the holidays are right around the corner.
Fall in Virginia calls for a bit of celebration, and what better way to celebrate than with local fall festivals? We've rounded up our top eight fall festivals in in the area. Take a romantic weekend with your significant other, or enjoy fun activities with the whole family.
8 NOVA Festivals to Enjoy this Fall
Dates: October 21, 2017 from 9 a.m. to 5 p.m.
Location: Pioneer Farm, Mount Vernon Estate, 3200 Mount Vernon Hwy, Mt Vernon, VA 22121
Distance from Springfield: 30 minutes
Cost: Free with admission to Mount Vernon
Mount Vernon is a staple attraction in Northern Virginia, and we think autumn is one of the best times to visit this beautiful and historic property. Complete with wagon rides, 18th-century dancing, a straw bale maze, and historic reenactments and demonstrations, this festival offers fun and learning for the entire family. Mount Vernon does a great job of celebrating the season and the rich history that sets the D.C. metro area apart. This event is handicap accessible.
Dates: October 21 and 22, 2017 from 11 a.m. to 7 p.m.
Location: Special Events Center at Bull Run Regional Park, 7700 Bull Run Drive, Centreville, VA 20121
Distance from Springfield: 55 minutes
Cost: Adults - $35, Designated Drivers - $10, Children - Free
Norther Virginia's Fall BrewFest provides craft beer and wine sampling, food, live music, and arts and craft vendors for adults 21 and older to enjoy. BrewFest is perfect for a fall date or fun night out with friends. Enjoy a full day of food, drinks, and fun while supporting local breweries, wineries, and vendors.
Dates: October 7, 2017 from 10 a.m. to 5 p.m.
Location: Historic Downtown Manassas
Distance from Springfield: 40 minutes
Cost: Free
In the heart of historic Manassas, Va., the 35th annual Fall Jubilee offers fun for everyone. With games, live music and entertainment, and more than 100 craft and community booths, the whole family can enjoy this fall festival together. There will also be pumpkin picking available, as well as a pumpkin pie eating and baking contest. Don't miss the Beer and Wine Garden open to adults 21 and over in the museum lawn!
Dates: October 7, 14, and 21, 2017 from 10 a.m. to 4:30 p.m.
Location: Graves' Mountain Lodge, 205 Graves Mountain Lane, Syria, VA 22743
Distance from Springfield: 2 hours
Cost: Free admission/Free parking
Apple picking is such a fun way to experience fall in Virginia. Graves' Mountain Apple Harvest Festival offers apple picking, live Bluegrass music, a hay maze, hay rides, horseback rides, and arts and crafts. This is the full apple picking experience, with home-cooked meals and apple-themed desserts available. This festival is pet-friendly and handicap accessible, so all are welcome. It's a bit of a drive from Springfield, but we think it's worth it.
Dates: October 6-8, 2017 from 10 a.m. to 5 p.m.
Location: Waterford, VA
Distance from Springfield: 1 hour
Cost: $0-$35 (see website for pricing)
This year marks the 73rd annual Waterford Fair. Come out to Waterford, Va. and shop juried artisans, local artists and crafters, the dried flower gallery, farm stand, and photography booths. Entertainment includes antique farm equipment, dance exhibitions, reenactments, craft demonstrations, and children's activities. You can also tour a variety of historical sites like the Quaker village, civil war era cemeteries, and eighteenth- and nineteenth-century homes.
Great Country Farms Fall Pumpkin Harvest Festival
Dates: October 1- 31, 2017 from 9 a.m. to 6 p.m. (Last admission at 5 p.m.)
Location: Great Country Farms, 18780 Foggy Bottom Road, Bluemont, VA 20135
Distance from Springfield: 1 hour
Cost: Adult - $12, Child - $10 (on weekends)
The Fall Pumpkin Harvest Festival at Great Country Farms is a fun event for the entire family. Take the kiddos on wagon rides or enjoy pumpkin picking, pig races, marshmallow roasting, corn mazes, and live music. There will also be freshly made Cider Donuts! The kids will love this farm experience, so make this pumpkin festival your next local family tradition.
Dates: September 22 – October 31; November 3-7, 2017 from 10 a.m. to 6 p.m.
Location: Cox Farms, 15621 Braddock Road, Centreville, VA 20120
Distance from Springfield: 45 minutes
Cost: Adult - $6-$20 (prices vary throughout season)
Cox Farms provides a fun family experience each fall, complete with epic slides, hayrides, a cornfield, farm animals, rope swings, live entertainment, local apples and cider, and a pumpkin patch. This is not your average fall festival—Cox Farms pulls out all the stops to make these classic fall attractions over the top and unforgettable. This is definitely a one-of-a-kind experience you and your family won't want to miss it.
Dates: September 23 – October 29 from 10 a.m. to 4 p.m.
Location: Whitehall Farm, 6080 Colchester Road, Fairfax, VA 22030
Distance from Springfield: 45 minutes
Cost: Adult - $12 per person
Whitehall is a family-owned farm that provides local, sustainably-produced food products to Northern Virginia. Their Fall Fun Days provide families an opportunity to have fun and experience the farm-to-table life. Complete with a chicken-shaped corn maze, pumpkin patch, farm animals, inflatable bounce house, Shirley's catering farm-to-table lunch, and nature walks, this fall experience is one you and your kids will talk about for years to come.
There's more to fall than pumpkin spice lattes. Get out and enjoy some home-grown fun, support local businesses, and celebrate the unique beauty and history of Northern Virginia.
Need a reliable vehicle to get out and explore? Stop into Safford Hyundai of Springfield and ask about our new or used inventory today.