2022 Hyundai Kona – How Does It Perform?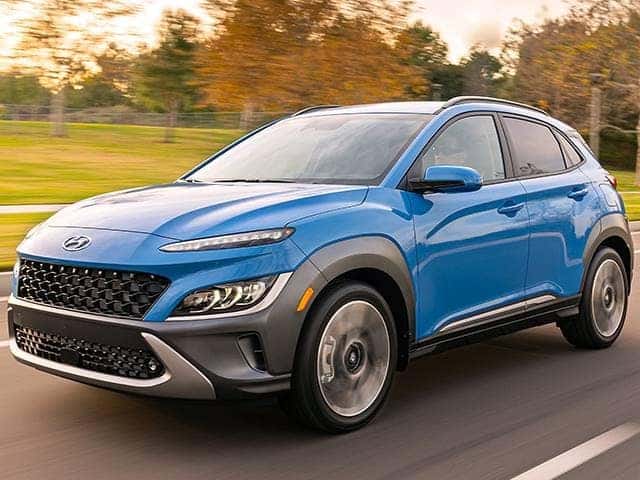 It's very clear Hyundai made a big jump on the exterior design from the 2021 Kona to the new 2022 model, but how does it perform?
Engine / Performace
The two main trims headlining the 2022 Hyundai Kona are the SE and SEL models. Each model comes with a 147-hp four-cylinder engine as well as a six-speed automatic transmission. Numerous tests have shown that both models need around nine seconds to reach 60 mph. Meanwhile, the two remaining trims called the Limited and N-Line models pack a little bit more punch with a 195-hp turbocharged four-cylinder engine combined with a seven-speed dual-clutch automatic. All versions of the 2022 Kona have great agility and handling for their size making them ideal for those just getting into SUVs. Its compact size helps its overall performance from switching lanes on the highway to stopping on a dime in an emergency.
Fuel Economy
Mini SUVs are a competitive market for fuel economy and the 2022 Kona is average amongst its peers. SUVs in general are known to need more fuel since larger vehicles require more gasoline, but the Konas' compact size and nature help it excel in this department. Its EPA ratings are slightly above average reaching up to 32 mpg in the city and 35 mpg on long highway drives with less frequent stops. If you are still curious about how to 2022 Hyundai Kona performs stop by our lot here at Safford Hyundai of Springfield for a test drive!