2022 Hyundai Tucson: Interior and Exterior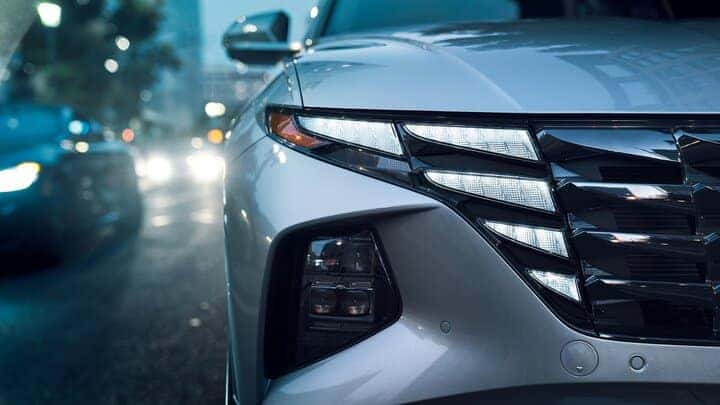 The 2022 Tucson SUV is great for Adventure
SUVs are superior in transient areas like the DMV. (Washington DC, Maryland, and Virginia for those not in the know) They have enough space for all your groceries, friends, family, and activity gear. The larger size can take some time to get used to but it is an easier learning curve than leveling up to a mini-van, full-size van, or truck. SUVs are also more suitable for transition stages like moving into college dorms, moving into a first apartment, and going from a couple to a small family. SUVs are also fantastic for people with hobbies requiring larger gear like biking, kayaking, or camping.
From new or growing families to adventurers the 2022 Hyundai Tucson is a fantastic SUV. Really! The 2022 Hyundai Tucson comes in eight colors, two interiors, and 5 trim levels including a hybrid model and plug-in hybrid model. The trim levels for the 2022 Hyundai Tucson are SE, SEL, N Line, XRT, and Limited. The available colors are Phantom Black, White, Shimmering Silver, Blue, Amazon Gray, Portofino Gray, Deep Sea, and Calypso Red.
From the outside, the Tucson has a stunning grille and LED daytime running headlights incorporated into the design. Clean lines run from the front to the rear and the angles along the front and rear doors reflect the environment and emphasize secure maneuvering.
From the inside, the 2022 Tucson has an open and streamlined aesthetic that shines throughout the cabin but especially on the dashboard. The layout of the dashboard is certainly the most important aspect of the interior. A well-designed dashboard leads to a safer, more comfortable, and more enjoyable ride for everyone. Inside the 2022 Hyundai Tucson the driver has a wide view of the road. The hood does not rest above the base of the windshield and the 10.25-inch digital instrument cluster resists glare and works with safety features to keep the driver aware of activity around the vehicle. At the center is another 10.25-inch screen that does not extend or sit above the sightline. There are no buttons surrounding the display instead there is an intuitive touch interface. The heating and air conditioning system inside is almost hidden in the contours of the dashboard and combined with Hyundai's new Multi-Air technology diffuses air gently creating effective yet subtle heating or cooling current through the cabin.
Look up and you will see the panoramic sunroof that brings the outside in. This Tucson is longer giving backseat passengers more room to stretch their legs out and adding more cargo space. The power lift tailgate rises up to 39 cubic feet of cargo space. With the 2nd row of seating folded down the cargo space grows to 80 cubic feet!
Reach out to our sales team by calling 703-776-9040 to schedule a test drive.
If you are interested in knowing more about the 2022 Hyundai Tucson check out this blog post, "2022 Hyundai Tucson – Ready for Anything".