Fall For Risotto This Season With These Recipes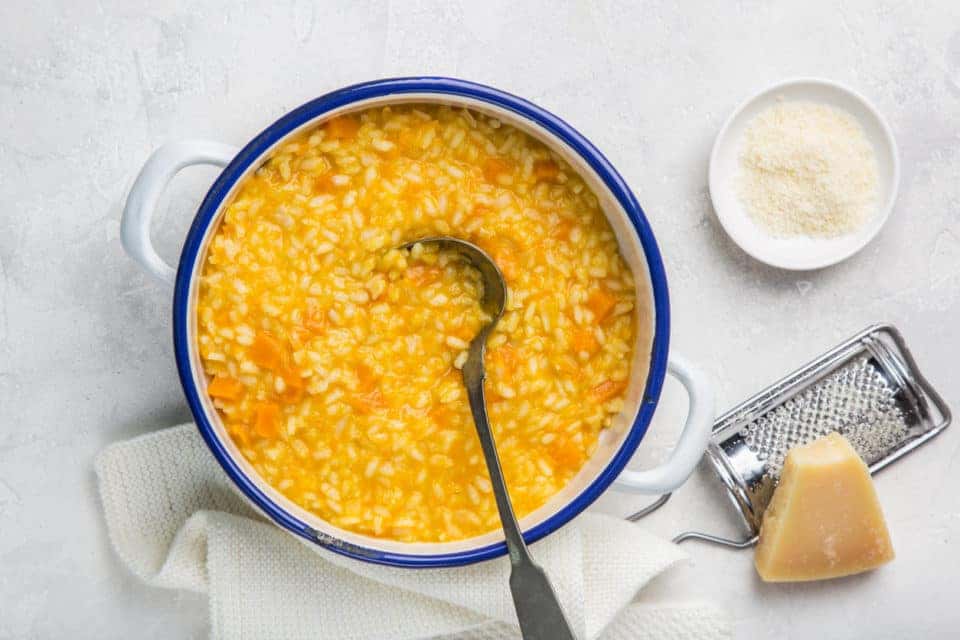 The Secret To Risotto
You've probably heard that risotto is infamously hard to make, but that simply isn't true. Risotto is actually very easy to prepare, and very hard to mess up – it's simply a bit time-consuming. The secret to the creamiest, perfect-texture risotto is stirring it nearly constantly while it cooks over medium-low heat. Most risotto recipes require arborio rice, but you can substitute that for sushi rice or any other very short-grain rice.
Use these three fall-inspired risotto recipes to take your meals to the next level!
Roasted Butternut Squash Risotto
If you'd like to make Risotto into an entire meal, this recipe is for you. Chunks of roasted butternut squash beef up risotto into a meal of its own. While most risottos simmer away on the stove with constant stirring, this risotto recipe actually bakes in the oven, making it perfect for beginner risotto chefs.
Baked Pumpkin And Goat Cheese Risotto
Another baked risotto, this pumpkin risotto recipe is ultra creamy thanks to the nature of risotto and the addition of goat cheese to the dish. Who knows, perhaps this pumpkin risotto will make its way to your Thanksgiving table this year?
Roasted Sweet Potato Risotto
A traditional stovetop risotto, this fall dish is packed with delicious flavors and tons of nutrients – what more could you ask for? If you don't care for sweet potatoes, you could always swap it out for pumpkin or any squash you like better and it will be just as delicious!
The Essential Base for Any Risotto
Bon Appetit's classic, basic risotto recipe is the perfect base for all of your creamy, dreamy fall dinners. It's prepared on the stovetop and is a blank (but delicious!) canvas for any toppings you desire. For the fall, Bon Appetit suggests browned mushrooms with thyme. Yum!
You Might Also Like: Stay Moving This Fall
Try Arancini With Your Risotto Leftovers
Arancini is fried balls of risotto and is the perfect way to use up your leftover risotto. Though it may seem intimidating, this arancini recipe takes about 20 minutes start to finish and produces absolutely delectable results. Traditionally, arancini is served with a warm marinara sauce, but the fall risottos above would be delicious with an alfredo or mornay sauce.
How will you prepare your risotto dishes?